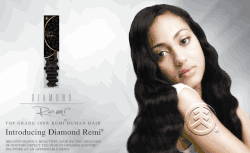 Bohyme Diamond Remi 100% Human Hair

Introducing Diamond Remi Hair Breathtakingly, Beautiful hair by the creators of Bohyme hair expect the high standards Bohyme delivers at a affordable price.

Diamond Remi is made of 100% world class remi human hair from only the best raw materials. Each and every strand of hair is individually inspected so with Diamond Remi, you can expect unparalleled duability, softness and comfort. Also, since all cuticle layers are intact and are aligned in the same direction, it increases longevity by decreasing tangling. Diamond Remi is the result of countless hours of research, use of the most advanced technology, and over 30 years of hair expertise.