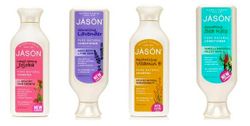 Wholesome ingredients were rounded up… Like Apricot Oil and Wheat Protein for an aromatic shampoo that cleans gently.

Aloe Vera and Vitamin E for a hydrating body lotion that soothes and smoothes the skin.

Peppermint Oil and Bamboo powders for a whitening toothpaste that freshens and brightens your smile. The JĀSÖN team meticulously created body loving products - at first just for their own family and friends - staying true to the JĀSÖN Code of Honor:

Select safe, gentle and effective ingredients Rigorously test every formula to ensure safety and efficacy Never test on animals Constantly innovate and improve

As one generation has given way to the next, JĀSÖN products have remained on the path forged by the brand's founders, committed to discovering even more ways to offer personal care solutions safer for us, our families and our planet.