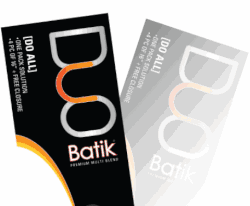 New Batik DUO is made of 100% Premium Multi Blend Hair in Eye Catching Colors, adding the perfect accent to your look with a dash of contrasting hair. DUO includes 4 bundles of 16" hair, 2 packs of contrasting colors and closure. Layer any way you want for a variey of unique look all with one pack of Batik DUO.

Outre Batik DUO Premium Multi Blend Weave

1 Pack Solution Safe Heat for Up To 350-400F.