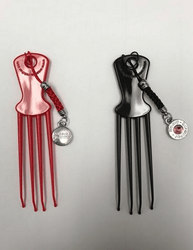 The Weave Scratcher is the first of its kind hair tool made especially for Women who experience one of the most common factors in wearing hair weaves, braids, or wigs.... THE ITCHY SCALP!

STOP THE PAT...START THE SCRATCH! You no longer need to use sharp pointy items that can damage your scalp. You can safley scratch your scalp with the specially designed Weave Scratcher.

Features of the Weave Scratcher:

-It's firm and thin like a RAT-TAIL COMB -It has round soothing balls on the tip that doesn't detach like a BOBBY PIN -It's lightweight, small and compact, easy to carry.